Automatic Pool Cleaners
Pool cleaning technology has made huge strides in the last 5-10 years, giving pool owners many great options to chose from. Pressure cleaners and pool robots are the most common types of automatic pool cleaners and will help you reduce the amount of regular maintenance in your pool.
GBI Pool Services Inc. highly recommends pool robots for their ease of use and low power consumption. We are one of Ottawa's Polaris automatic pool cleaner dealers and warranty service centers. If you're ready to reduce your regular pool maintenance, and are considering one of their top quality pool robots, you have come to the right place!
We are proud to service the pool cleaners we sell in house. GBI Pool Services Inc. is proud to be a factory authorized warranty & repair depot for all makes of Polaris robotic pool cleaners.
Pool Robots
If you are looking for the ultimate pool cleaning machine with the most convenience, a 4WD robotic cleaner is a no-brainer. These pool cleaners are dropped into your pool, and with the push of a button will clean the entire pool in a 2-3 hour cycle.
They draw power from a 120V wall plug, and actually use less power than a 60W light bulb. They are much more efficient than pressure cleaners, which rely on the pool pump pressure. High end pool robots use an on-board computer which ensures that the entire pool is mapped out and fully cleaned before the end of the cleaning cycle. Once they have finished scrubbing the pool, simply remove them from the pool and store them on their wheeled caddy. These cleaners can also be programmed to vacuum the pool on a schedule should the pool owner be away from their pool for an extended period of time.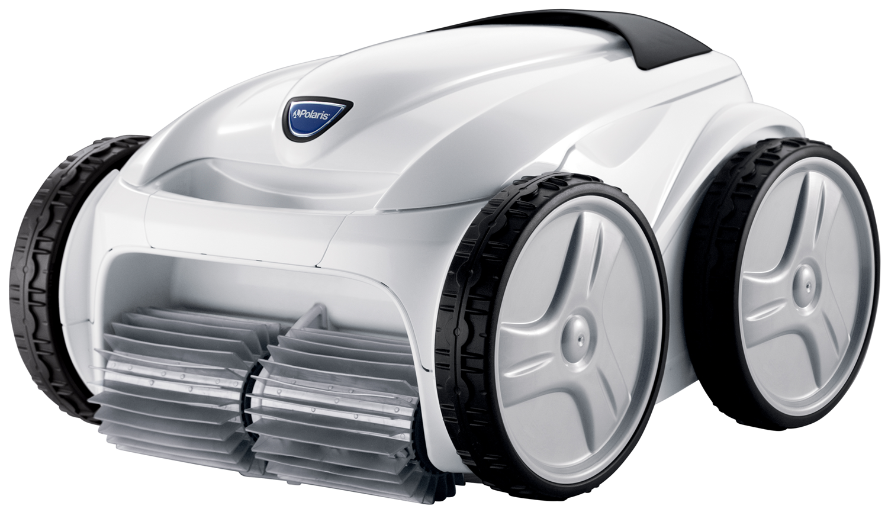 PRESSURE CLEANERS
Pressure cleaners require a pool owner to put piping together and plug into the skimmer opening or a return jet. These cleaners use the pool pumps pressure to pull debris off of the bottom of the pool. Using random movement patterns, they eventually clean the entire bottom of the pool. These cleaners are great for the pool owner who doesn't want to vacuum their pool on their own.